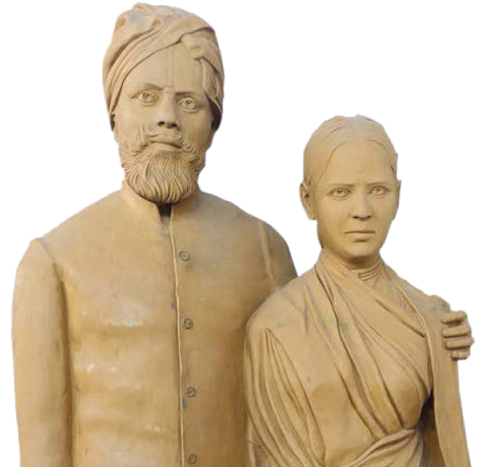 125th wedding anniversary of Bharathi and Chellamal on 27th June 2022

Bharathi Chellammal Centre at Kadayam
Implemented by Sevalaya. We appeal to every one of you to support us in this ₹ 3 crore project to perpetuate the memory of this great poet.
Bharathi Chellammal Centre at Kadayam

Mahakavi Bharathiyar is one of the inspirers of Sevalaya. Statues have been installed and memorials have been established for the great poet in Ettayapuram, Pondicherry, Chennai, all places associated with his life. Even in Varanasi, where he spent a few years as a student, a statue of the poet has been installed in his memory.
It is very unfortunate that there are no traces of Bharathi in Kadayam, the birthplace of his wife Chellammal.
Bharathi married Chellammmal at Kadayam village on 27th June 1893. Later, in 1919, when Bharathi was released from Cuddalore jail, he lived in Kadayam for 2 years.
Many of Bharathi's immortal poems were composed in Kadayam. It was in the streets of Kadayam Bharathi walked with his wife beside him, his hands on her shoulder. It was a revolution in those days when women were not even allowed to come out of their houses. He earned the wrath of the villagers for this revolutionary act and was excommunicated.
The spiritual poem Kakkai Chiraginilae Nandalala, , was penned by him in Kadayam. At the request of the Islamic friends from Pottalpudhur, Near Kadayam, Bharathi wrote the poem Allah Allah.
His ideas on religious harmony, gender equality and social justice were far ahead of his times and was never understood by the society at that time.
We have initiated a project to perpetuate the memory of Mahakavi at Kadayam. Sevalaya proposes to demolish the Govt Library building in a very dilapidated condition, at Kadayam and construct a new library building with all modern amenities, and has acquired Government's permission for the same. A museum on the theme Bharathi in Kadayam will also be opened on the first floor. A life-size statue of Chellmmal Bharathi will be at the centre stage. This Chellammal Bharathi centre will be a vibrant one with seminars and symposiums on Bharathi and his works.
Sevalaya is determined to install the life-size statue of Chellammal Bharathi on the occasion of the 125th wedding anniversary of the poet on 27th June 2022.
Bharathi is the gift of Tamilnadu to not only India but humanity at large. We appeal to every one of you to support us in this ₹ 3 crore project to perpetuate the memory of this great poet.